This tip is simple but, oh so, helpful. When writing a blog post or page have you ever wanted to link to an old post? To get the link you would have to go to your website, find the post, and copy the link. Or you would look at all the posts listed in your admin area and get the link there. Either way, it takes you away from what you are doing, writing a great blog post.
WordPress has made this process so simple. Start by writing your blog post as normal. When you have selected the text you which to link, highlight it and then click on the "Insert/edit link" button from the toolbar. It's like this:

A small box will pop up allowing you to add a link. See below for a screenshot.

If you know the URL for the blog post you want to link to, just go ahead and enter it. If you don't, you can find it quickly from this same box. Simply type in a keyword from the blog post you wish to link. A list of posts and pages matching that keyword will appear and you can chose the appropriate post from the list. WordPress will then automatically add the URL to the link box.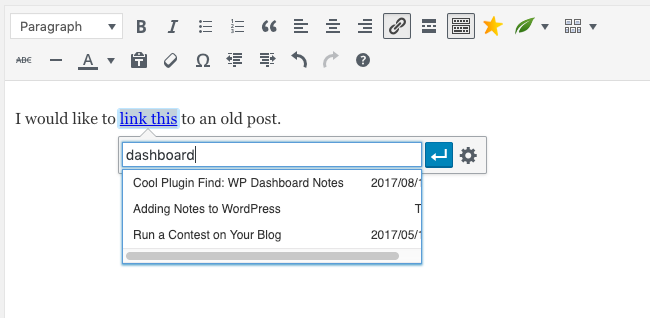 With this time saver you have no reason not to be adding internal links to your blog posts!