Blog comments don't seem to be as big of a deal as they used to be, but if you have an active blog with regular readership you may still be getting a good number of comments on your blog posts. Regardless of your reader's interaction comment moderation is an important part of maintaining your WordPress site.

Unfortunately, spam commenting runs rapid and if left unchecked will take over your blog. Spam comments on your blog make your site look unprofessional and unsecure.

If you are using WordPress you have some different options when it comes to moderation.  All of the options can be found under the administration menu Settings -> Discussion as shown below.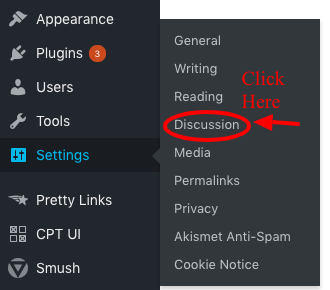 Comment Moderation Options
Turn off comment moderation completely. I don't recommend doing this. This leaves your comment area open to spam. You don't want your readers to see that.

Commenter must be a user on the blog and logged in before leaving a comment.  I don't recommend this either.  You don't want to limit who can or can't leave a comment.  Unless you have a good reason or are running a large community, using this option can alienate possible readers.

Every comment must be approved. The only downside to this option is that it can be very time consuming. Often if people don't see comments they won't comment. So if are not able to immediately approve comments, you may miss out on even more comments.

Comment author must have a previously approved comment. This is the best option in my opinion. It allows you to confirm that the commenter is not a spammer and also cuts down on moderation time since you will only have to approve their comments once.

Number of links allowed in a comment. Spammers like to bombard a comment with links. By limiting the number of links allowed in a comment you are putting a stop to a lot of spam comments.
However you decide to handle comments on your blog just make sure that the real comments get shown and the spam comments get trashed. My recommended settings are shown below:


Spam plugins such as Akismet and Anti-Spam are big helps as well.